Already looking ahead, here's who I believe will be the big 10 in '08. In no particular order.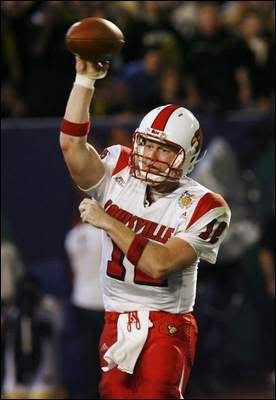 1. Brian Brohm, QB Louisville
Brohm is this years big name franchise QB. He has all the fan fare and glamour behind him a la, one #22 overall pick this year. So why am I picking Brohm to go in the top ten this coming draft? Because he'll be a Cowboy, that's why.
2. Darren McFadden, RB Arkansas
Would have been a top 10 pick THIS year.
3. Jake Long, OT Michigan
As much as everyone knows I hate selecting linemen high in the draft, Im going to put long in here due to the fact he was leagues better than Joe Staley and Levi Brown last year.
4. Chad Henne, QB Michigan
While Im on Wolverines, might as well put the guy Long protects in here too. I believe Henne and Brohm are better than Colt Brennan, so they go in the top 10 and Brennan not.
5. DeSean Jackson, WR California
The nation's leader in kick returns last year will return for a strong season to cement himself in the top 10. He's who Teddy Ginn is supposed to be.
6. James Laurinaitis, LB Ohio State
The NFL is a league based on defensive speed, and the animal gives you exactly that.
7. Malcom Jenkins, CB Ohio State
A lot of Buckeyes and Wolverines here... hmm.. but Jenkins is a versitle corner that has the speed Leon Hall doesn't.
8. Steve Slaton, RB West Virginia
Slaton is a quick runner with a NFL burst but I don't think he will ever live up to the ginormous numbers he put up in his college system. Nevertheless, some hopeless NFL team will bank on it.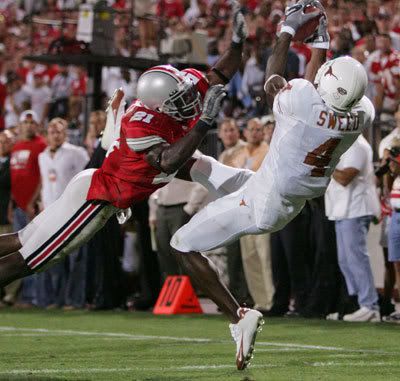 9. Limas Sweed, WR Texas
A big 6'5 WR with sub 4.5 speed. There's a team out there that misses Terrell Owens that wouldn't mind drafting his clone....
10. Glenn Dorsey, DT, LSU
A speed rusher from the DT position. He will definately hear his name called early on draft day.