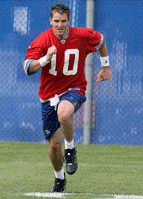 Today's Spectacular bust is Peyton's little brother, good ol' Eli Manning.
His Qualifications
Eli Manning was picked with the first overall pick in 2004, by the San Diego Chargers. He made a public spectacle about how badly he didnt want to be a Charger, and was later traded to the Giants for (a) Philip Rivers, and (b) The draft pick that became Shawne Merriman. In his career with the Giants thus far he has thrown 54 touchdowns with 44 ints which doesnt neseciarily make him a bust if it weren't for his boyish lack of confidence and the fact that he was traded for Philip Rivers AND Shawne Merriman! Oh man, the Giants got jipped!
Alternate Options
The Giants would have been better off selecting Ben Roethlisberger, who was available at 11 or they should have just stuck with Rivers.
Eli isn't that bad of a bust, but he is a spectacular one, and that is what this week is all about.