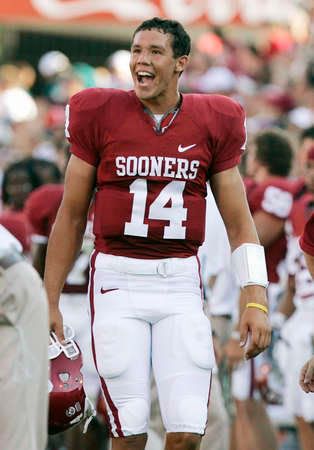 Sam Bradford.
That could be the first name called at the 2010 NFL Draft this year. But the Rams aren't showing their hand yet. Bradford is finally throwing for the scouts they he is garnering rave reviews. Scouts are said to be impressed with his arm strength, throws, and his new buffed up physique. Is it enough for the Rams to pull the trigger?
For Ndamukong Suh this could be the difference between going first or fifth or worse. In a scenario where Bradford goes first the following could happen:
Rams:
Sam Bradford, QB Oklahoma
Lions:
Russell Okung, OT OSU
Buccaneers:
Eric Berry, DB Tennessee
Redskins:
Jimmy Clausen, QB Notre Dame
Chiefs:
???
Would the Chiefs pull the trigger at #5? That would be a TON of money invested in their defensive line between Glenn Dorsey, Tyson Jackson, and Suh. Is Suh too good to pass up? He is a great talent no doubt but most of the teams at the top of the draft have more pressing needs than a defensive tackle.