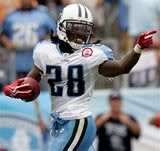 The man etched 2,006 rushing yards in 2009 and he made less than one million.
Dear Titans management, you need to pay Chris Johnson. Yes, we all understand that Chris signed a 5 year, $7 million dollar deal as a rookie just two years ago. However that was before he became the best back in football in that two year time span.
Oilers, errrr... Titans coach Jeff Fisher has claimed that a sit down meeting will happen between the Titans and Johnson soon according to Yahoo! Sports.
RB Chris Johnson and the Titans' braintrust need a sit-down meeting, according to coach Jeff Fisher, who would like it to occur before mid-June. Fisher would like for it to happen before the Titans reconvene for their next round of offseason work on June 14. Coincidentally, Johnson will be in Middle Tennessee that very week for his football camp on June 16 at Battle Ground Academy in nearby Franklin, Tenn. "I would assume that there will probably be a sit-down meeting between both sides between now and then and we'll see what happens," Fisher said. "I think it makes sense to get everybody together and that's what we'll push for. There's no purpose, no set agenda, but it makes sense to get together and try to sort everything out."
Currently Johnson is working out in Florida instead of in Nashville with the rest of the team. I don't blame him. Adrian Peterson's last deal was a 6 year, $40 million deal. I'm just saying.