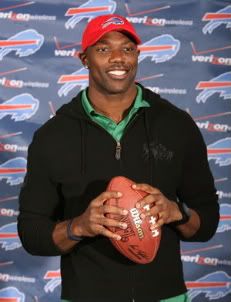 It still amazes me that this week as NFL camps open, arguably the greatest wide receiver of all time is still looking for a job. TO has found a soft spot to land in reality TV, but that's not what he's known for. The NFL's third place all-time touchdown scorer is known for what he can do on the field.
We would be here all day if I were to talk about all his records. I suggest you
look them up yourself
.
I know, I know, there is that big matter of what Terrell does off the field as well. He is known as a divisive malcontent for some of the mistakes he made as a member of the 49ers and Eagles. But we all grow up, and I truly believe that TO is as good a person as anyone in the league. The things he said and did earlier in his career came from his intense desire to be the game's best and to let everyone know it. I can't say that I blame him. After all he had to fill Jerry Rice's shoes early in his career.
I could go on and on about Terrell's Eagles stint and his public fights with Donovan McNabb, or the Dallas Cowboys organization scapegoating him to save face for Tony Romo but I won't. We know what happened and its now in the past. Since then Terrell's been almost unrecognizable as a veteran receiver on the Buffalo Bills and a positive figure for the NFL in general.
No arrests, no allegations, no women coming out the woodwork, but some people don't want him on their team? I can't see why a contender wouldn't want to add him. He can still play at a high level and you are not going to find a rookie or midyear player who's going to outwork him period.
That brings us to the Bengals.
Rumors are that the player that the Bengals signed over Terrell Owens, Antonio Bryant, is having knee problems and that the door may be open for TO. Chad Ochocino has publicly lobbied for TO to be signed alongside him, and rumors are that Carson Palmer is working out with TO now as well.
This could be a great signing. Terrell Owens and Chad Ochocinco are two of the hardest working receivers in the game, and undoubtedly will push each other to grind through the season together. Carson Palmer is the type of quarterback that isn't going to take any shenanigans so there's no need to worry about him pulling a "Romo" or "Garcia". All signs show that the Bengals should return a pretty competitive team that won their division last year and adding TO to the mix is the icing on the cake.
The only question left remaining is who's camera crew gets priority in the locker room? You know they are already planning the TO show: Season 3 but at the same time Chad may need another season to find his Ultimate Catch!
Either way I cannot wait to see the last act of Terrell Owens' legendary football career.
I'm getting my popcorn ready.