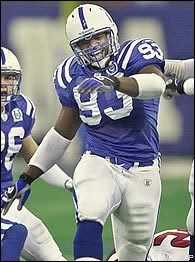 "I'm licking my chops," Freeney said. "All these rookies coming out? They don't know anything. I can't wait."
"I couldn't wait to hit Mark Sanchez," he said. "And I can't wait to hit Tim Tebow even more."
In order to keep up with and take advantage of the green horned lads, while trying to break away from allowing the hands of time have their way with him, Freeney, who turned 30 this year, has been sleeping in a hyperbaric chamber and using an electric muscle stimulation machine.
As part of his aspiration to keep his nose to the grindstone and maintain his role on the cutting edge of elite status as a defensive end, the veteran has embraced state of the art technology.
Tebow was just entering his freshman year in high school, when Freeney took the NFL by storm his NFL rookie season with 13 sacks.
Freeney, who is 16 years removed from his high school freshman season, had 13.5 sacks last season.
Freeney was a four-sport letterman, baseball, basketball, football, and soccer, Freeney currently holds his high school sack record. Bloomfield High School retired his No. 44 Jersey.
At Syracuse, Freeney clocked a 4.42 40; he recorded a sack in 17 consecutive games.
Freeney has a lot of miles on the odometer...
The rest of the article is at this link. Enjoy...