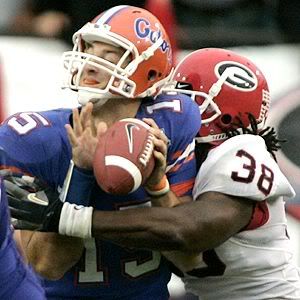 Is it too early to say he won't make it? Of course. But for the Denver Broncos and Tim Tebow fans these reports cannot bode confidence in the first round pick.
Early in practice he missed receiver Alric Arnett, then a couple plays later threw way behind tight end Riar Geer. He had a pass tipped at the line that was intended to tight end Richard Quinn. A few plays later he missed badly to Quinn on a pass that hit the ground before it got to him. Tebow himself singled out another bad pass - a crossing route to open receiver Patrick Honeycutt that was behind Honeycutt and too low, and hit the ground.
Colorado Springs Gazette
We still have a long way to go before preseason where Tebow will likely be thrust into the NFL spotlight more than any other player in history as a rookie. If he struggles in the preseason then maybe the critics have a very valid point. However we will not know the answers to any of the questions until live game action.
The season cannot get here soon enough.