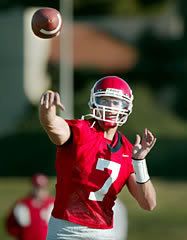 Well I guess it's official now. The Tebow era is about to start in Denver. Although its unofficial, rumors are that the Broncos are going to release last year's third stringer Tom Brandstater from his contract today.
According to BroncoTalk:
Six weeks after the Denver Broncos selected quarterback Tim Tebow in the first round of the 2010 NFL Draft, the Broncos shallowed their quarterback pool Friday by releasing backup Tom Brandstater, per multiple reports.
I'm kind of sad because I think Tom has talent that just needs to be refined some. He looked good in preseason and he will undoubtedly bounce back with another team. Maybe even in the division (remember who said it first!)