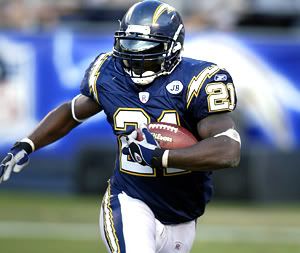 San Diego Chargers 2001-2010.
NJ Jets 2010- .
Those are the tattoos that LaDainian Tomlinson have blazed on his calves to remind him of his storied NFL career. While LT has already taken his seat at the table of the NFL's greatest backs, most believe that he is at the end of his career. LT obviously knows something that we don't.
Getting the logo of the new team you just signed to tattooed on you before final cuts are made? Confident I might say. But saying that the Jets
are going to win the Super Bowl?
That's plain crazy LT.
Either way, I'm still excited to see Hard Knocks with the New York Divas, I mean Jets.