A lot of people over at Broncomania have been hyper-sensitive about my non cookie cutter mocks for a while now. Therefore in this mock I'm going to break down the selections and what I'm thinking as I make them. This is also my first mock since
Denver acquired the Bears #18 overall selection for Jay Cutler
.
Without further adieu... the mockness.
1. Detroit - Matt Stafford, QB Georgia
$40 mil to the #1 pick this year. The NFL has got to slot rookie salaries. Besides that, the Lions need to move on from 0-16 and the kid actually wants to be a Lion.
2. St. Louis - Jason Smith OT, Baylor
Orlando Pace is taking his shaky knees to Chicago to attempt to block for The Player. Smith grades out as the top tackle, but I think they may grab Monroe because he has a higher perceived ceiling as a franchise type LT. Either way, a tackle is a good pick here.
3. Kansas City - Aaron Curry LB, Wake Forest
This sucks for KC. They'd like to build a 3-4 and Curry doesn't really give you the best bang for the buck here. He is though the highest rated defender so he will be paid as such.
4. Seattle - Eugene Monroe OT, Virgina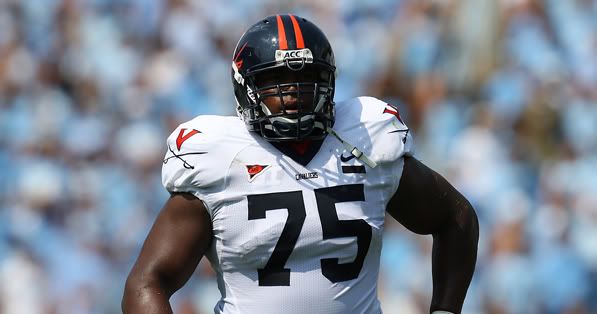 I believe he and Andre Smith are the best tackle prospects in this draft. Monroe, the former TE, the best LT prospect and Smith the best RT. Seattle needs to replace Walter Jones so Monroe is their guy.
5. Cleveland - Michael Crabtree WR, Texas Tech
Depending on if Stallworth goes to jail and if the Giants pony up the picks for Braylon this pick could change. Either way Derek Anderson (sorry Brady!) has to throw to someone
who will.. CATCH THE BALL.
6. Cincinnati - Brian Orakpo, DE Texas
Cinci has needs all across the board. Grabbing the best pass rusher in the draft won't hurt one bit.
7. Oakland - Jeremy Maclin WR, Missouri
If Orakpo is still on the board pencil him in here, but since he's not I think Al goes with Maclin. You know Al is enamored with size and speed. Maclin has elite speed and will team up with Javon Walker and Ashley Lelie to give Jef.... Jamarcus Russell some targets this year.
8. Jacksonville - Andre Smith OT, Alabama
After securing the services of 3 time Pro Bowler Tra Thomas, their rebuilding of the offensive line becomes complete after grabbing the best RT in the draft.
9. Green Bay - BJ Raji DT, Boston College
With so many teams switching to 3-4, Raji is going to be a wanted man. If he lasts this long its a no brainer.
10. San Francisco - Aaron Maybin DE, PSU
Aaron Maybin is the second best pure pass rusher in this draft. Coach Singletary just can't play with people that can't rush the passer.
JUST CANT DO IT!
11. Buffalo - Brandon Pettigrew, TE, Oklahoma State
Look for a trade with Washington here. I'll explain in 2 picks...
12. Denver - Tyson Jackson DE, LSU
McDaniels needs pieces that are going to help him win now. Jackson is one of those pieces.
13. Washington - Mark Sanchez, QB USC
This is a placeholder pick. He is going to Washington, but definately somewhere in the 8-11 range. They lost the Jay Cutler sweeps and won't let Denver screw them out of landing a franchise QB again.
14. New Orleans - Knowshon Moreno RB, Georgia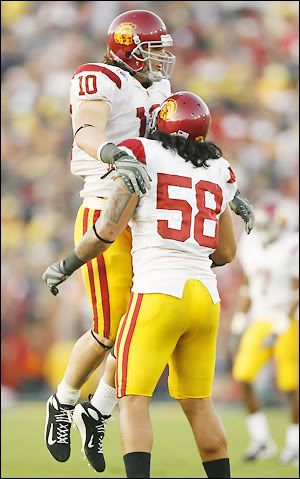 Dear Reggie Bush: please start learning how to hit the
football
holes hard. Thanks. Yes, Im hating..shut up.. lol...
15. Houston - Rey Maualuga LB, USC
They will take a defender, but will they pay him? How many Houston defenders want a new deal this offseason? I lost count. Seriously.
16. San Diego - Brian Cushing LB, USC
Shawne Merriman is coming back but it won't hurt to add a versitaile local defender next to him. His great pro day plants him in the middle of the first. Either here or a few picks higher in my opinion.
17. NY Jets - Darrius Heyward-Bey WR, Maryland
Speedy receiver in the Coles mold.
18. Denver (Chicago) - Everette Brown DE, Florida State
Everette will come in and give them another young LB to go with Williams and co.
19. Tampa Bay - Peria Jerry DT, Ole Miss
Chris Hovan can't play forever.
20. Detroit (Dallas) - Michael Oher OT, Ole Miss
Draft the QB, then insure that selection here.
21. Philadelphia - Donald Brown RB, UConn
Surprise? Not really. Donald has housing speed and is an actual RB, not a WR playing RB like Westbrook. I love Westbrok but how long are you going to gimmick your offense and keep getting him hurt?
22. Minnesota - Kenny Britt, WR Rutgers
Fast, tall, WR who may be a little too into himself from what the rumors say. Remind you of anyone that played for Minnesota before? Naaaah...
23. New England - James Laurinatis, LB Ohio State
Mike Vrabel v2.0. The Animal might not have the game to be a tight end on the goal line, but he is one of the only legit ILB prospects in this draft.
24. Atlanta - Vontae Davis CB, Illinois
Foxworth was their best CB last year and he cashed in with Baltimore. You got to get off the field quickly to put the ball in Ryan and Turner's hands. Vontae can help do that and grades out higher than Foxworth out of college.
25. Miami - Darius Butler, CB UConn
Andre Goodman is a Denver Bronco. Someone has to step in.
26. Baltimore - Clay Matthews LB, USC
Clay is a self made player that can learn from a hall of fame LB in Ray Lewis. You saw how much it helped Bart.
27. Indianapolis - Hakeem Nicks WR, UNC
He compares to a Reggie Wayne type WR. Why not let him learn from Wayne himself?
28. Philadelphia (Carolina) - Malcolm Jenkins, DB Ohio State
Brian Dawkins is gone. Lito Shepphard is gone.
29. NY Giants - Brian Robiskie, WR, Ohio St.
Plax is gone. Hixon can't catch and Steve Smith gets zero seperation. I like Robiskie, the son of a pro, to keep his nose out of trouble and to step in as the receiver they need right now.
30. Tennessee - Percy Harvin WR, Florida
Chris Johnson can't do it all. Once Vince wins his job back, who is he going to throw to? Take some pressure off and let Percy carry the rock however you can get it to him.
31. Arizona - Beanie Wells RB, Ohio State
Yeah.... he's down here because of injury concern.
32. Pittsburgh - Eben Britton OT, Arizona
Could be Max Unger or Eric Wood here. Either way help Ben out.