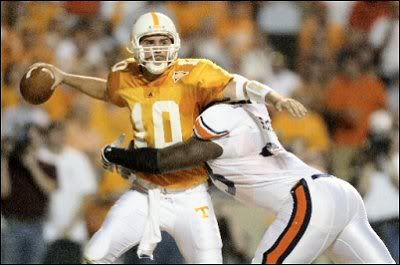 One of my favorite sleeper picks in the 2008 NFL Draft is Quarterback Erik Ainge from Tennessee and I will tell you why.

He's a natural leader who can make all the throws you need to at the next level. As a freshman, the bright lights did not phase him and he broke Peyton Manning's freshman record for TD's thrown. Not only that, but he also had to fend off Brent Schaffer and Casey Clausen from taking snaps from him.

He has battled numerous injuries but very quietly put together a strong Senior season passing for 3522 yards, 31 touchdowns, and only 10 ints in the SEC. His mobility is a concern yet in 2007 he was only sacked 3 times...

At 6'5 and 225 lbs Erik Ainge has the prototypical frame for the NFL. It would behoove a team with a shaky Quarterback situation (San Francisco, Green Bay, Baltimore) to take this guy in the 3rd round.