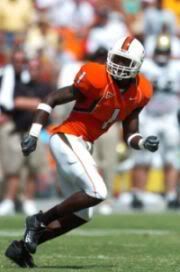 I'm going to throw out some random analysis on my behalf... which comes from watching mainly C USA games and ACC games... but I also watched every SEC game I could get which was a lot of Arkansas for some strange reason... anyways.. here is my analysis from how they play, not the combine.

I have come around on

Matt Ryan.

I do not think he is benefiting from a weak QB class at all. He took a team with lackluster talent and made them look real good every Saturday. He moves well in the pocket and finds the open man, doesnt force it.



Chris Johnson

is my homer pick. Ive watched is maturity from a freshman surprise all the way to NFL Draft Prospect so I have to support him. Is an effortless runner, with elite speed, and has soft hands. Waits for his blockers instead of trying to outrun everyone which resulted in the most all purpose yards in the nation.

I absolutely love

Mike Hart

as a prospect. He doesn't fumble and is tough. Built small and compact and gets those tough yards. He benefited a lot from Long but no one will deny he was a quality back in college. May never be the man in the NFL but will be a great #2 man.



Darren McFadden

is an elite runner who comes once every five drafts or so. Big and strong with a great stride and the speed to house it when he gets to the second level. Unreal stiff arm as well and breaks the arm tackles with ease. Put his team on his back against LSU and cemented himself as the first runner taken.

I think

Limas Sweed

is the next Plaxico. He has great speed for his size and has good leaping ability. A terror in the redzone with 20 career TDs and would have broke the school record if he didnt get hurt. Came to the combine healthy and I have him ranked as my #1 WR.

I saw a bunch of WVU and I will join the Schmitt fans. He is a bull in a china house. In other news, Slaton looks like kick returner at the next level. I dont think he is big enough nor quick enough to make guys miss.


Kenny Phillips

is a first round talent. Sure he played not to get hurt, but he has the size, bulk, speed, and experience you look for in a future safety. A hard hitter and sure tackler. I dont believe any of the misinformation about him. I will admit he needs work against the deep ball.

Thats all I have for now.. Ill think of more guys I watched later.