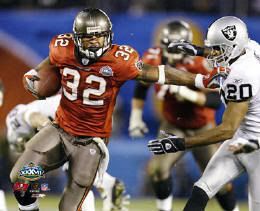 I'm reaching for the panic button as I type this.

Days after Travis Henry goes down with yet another hamstring injury Mike Shanahan has decided to bring in former Buccaneers running back Michael Pittman. I'm not thrilled at all.

A few years ago this would have been a good move but at this point I'm skeptical. Will Travis Henry even be wearing Broncos blue once the season starts? I don't know. Michael Pittman talks very candidly about being the starter in this interview.

What makes this even more interesting is the fact that the Broncos opted to sign the 32 year old Pittman after drafting Ryan Torain who is a similar built back but also has injury problems in his past like Pittman and Henry.

Could this be a disaster in the making? Who could save the Broncos?

Selvin Young believes he can.

As a matter of fact he feels that he can rush for 2000 yards this season. Travis have you passed any of that "second hand smoke" over to Selvin?

All jokes aside, it will be interesting to see who emerges as the man in Denver this year. My money is on the $2000 man Mr. Young.