1ST ROUND
1. Miami Dolphins- Jake Long OT Michigan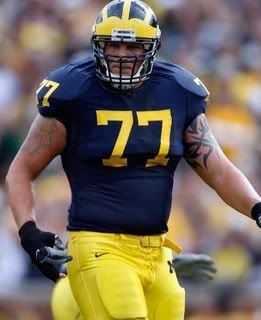 They need a lot, but in the end it is about the dolla dolla bills. I've predicted time and time again that Matt Ryan would be this pick and at the end of the day Atlanta or Baltimore could still trade up here and get it done but until then, I think Parcells will invest his $30 mil in a franchise right tackle.
2. St. Louis Rams- Vernon Gholston DE OSU
This pick is going to be torn back and forth between Dorsey, C. Long, and Gholston. I think the Rams would love to have an edge rusher to put with Carriker and Gholston has the most upside of any edge rusher in this draft.
3. Atlanta Falcons- Glenn Dorsey DT LSU
They do need a QB, but with their defense in the sad state it's in the better value is with Dorsey.
4. Oakland Raiders- Sedrick Ellis DT USC
The Raiders simply need to close their eyes and pick a defensive player out of the hat. Tommy Kelly is your starting DT, so it's time to replace Warren Sapp and upgrade the tackle spot.
5. Kansas City Chiefs- Branden Albert T UVA
This was Jeff Otah but with another big and strong kid in Alberts skyrocketing his stock in private workouts I think the Chiefs get their guy here.
6. New York Jets- Darren McFadden RB Arkansas
Chris Long is still on the board but their offense is terrible to put it nicely. D Mac and cheese will take over for a super average Thomas Jones and give them the big play threat they are lacking.
7. New England Patriots (from San Francisco 49ers)- Chris Long DE UVA
Stunned that Long fell into their laps the Patriots make their pick and prepare to replace Mike Vrabel with his exact clone.
8. Baltimore Ravens- Ryan Clady OT Boise State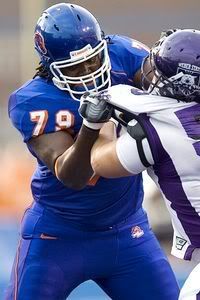 What?! No Matt Ryan?!! Ozzie Newsome has publicly said that Steve McNair's retirement has NOT shifted his draft strategy which tells me this pick is Clady or McKelvin. Mel Kiper looses his marbles right about now.
9. Cincinnati Bengals- Rashard Mendenhall RB UI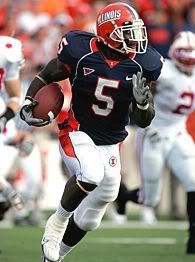 Rudi Johnson has become incredibly average, Kenny Watson is alright, and Kenny Irons hasn't played a down yet. Their main need is DT but Balmer is not a top 10 selection.
10. New Orleans Saints- Leodis McKelvin CB Troy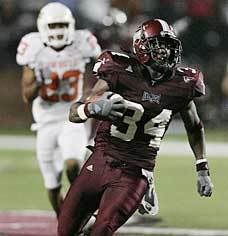 Jason David... why do you have a job?!
11. Buffalo Bills- Dominique Rodgers-Cromartie CB TSU
The logjam at receiver guarantees there will be options later, but you have to grab the most physically talented corner when he falls in your lap and Webster needs help immediately.
12. Denver Broncos- Kentwan Balmer DT UNC
I will put Balmer here as a placeholder. The mastermind needs a DT badly so he has to reach because trading down tips his hand. A RB like Stewart may be a taken as a personal project. Think Maurice Clarett minus the guns and malt liquor.
13. Carolina Panthers- Matt Ryan QB BC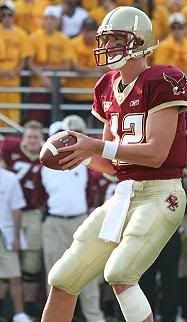 Ryan has had great personal workouts but Carolina will deny deny deny they want a QB until it is read.
14. Chicago Bears- James Hardy WR Indiana
Hardy is a local prospect and a big kid with a lot of upside. Do YOU believe in Brandon Lloyd? Point made.
15. Detroit Lions- Jonathan Stewart RB Oregon
This is a placeholder pick because I do think Denver will trade back in and get Stewart but in the case it does not happen... Tatum Bell is not the answer.
16. Arizona Cardinals- Mike Jenkins CB USF
A physical corner with the speed that Antrel Rolle lacks.
17. Minnesota Vikings- Derrick Harvey DE Florida
He is a top 10 talent but if everyone drafts pretty much on need he will slip right into Minnesota's warm arms.
18. Houston Texans- Chris Williams OT Vandy
They are STILL in search of a franchise take after taking Tony Boselli about a decade ago.
19. Philadelphia Eagles- DeSean Jackson WR Cal
The small guy is apparently the Eagles biggest target in the draft.
20. Tampa Bay Buccaneers- Devin Thomas WR Michigan State
And the run on receivers begins. Thomas is a great prospect with one solid year in college.
21. Washington Redskins- Phillip Merling DE Clemson
The injury will heal, and Washington might get the next Trevor Pryce.
22. Dallas Cowboys (from Cleveland Browns)- Aqib Talib CB Kansas
Has the best resume of the corners in this draft. Too bad he failed that drug test.
23. Pittsburgh Steelers- Jeff Otah OL Pittsburgh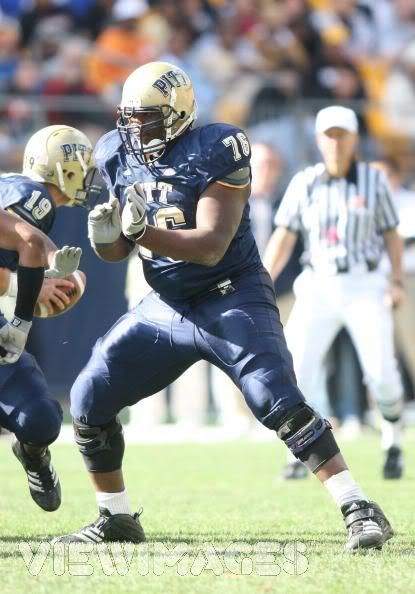 Not the sexy pick, and not the tall WR that big Ben wants.
24. Tennessee Titans- Limas Sweed WR Texas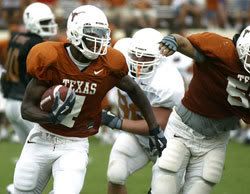 Vince needs a big target, why not get his favorite one from college?!
25. Seattle Seahawks- Felix Jones RB Arkansas
All of their RBs have question marks. Felix can get it done as a RB or KR.
26. Jacksonville Jaguars- Calais Campbell DE The U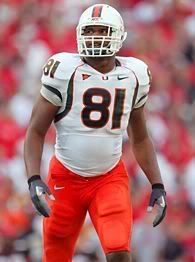 Peace to Marcus Stoud, welcome in Campbell.
27. San Diego Chargers- Kenny Phillips S The U
Eric Weddle needs help with McCree in Denver.
28. Dallas Cowboys- Mario Manningham WR Michigan
He does have a few character concerns but Jerry Jones has shown that if you can play he will work with you.
29. San Francisco 49ers (from Indianapolis Colts)- Malcolm Kelly WR Oklahoma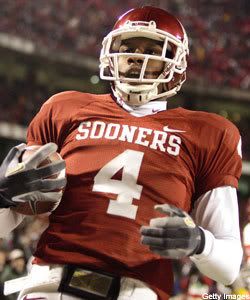 Wow. What a 40 time will do to you. Sorry Malcolm.
30. Green Bay Packers- Brandon Flowers CB VT
Their corners are only getting older.
31. New England Patriots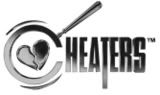 32. New York Giants- Keith Rivers LB USC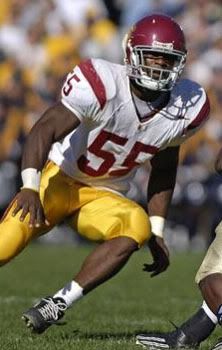 This is what happens when we get single digit scores on out wonderlic tests.
2ND ROUND
32. Miami Dolphins- Lawrence Jackson DE USC
33. St. Louis Rams- Gosder Cherilus OT BC
34. Atlanta Falcons (from Oakland Raiders)- Brian Brohm QB Louisville
35. Kansas City Chiefs- Quentin Groves DE Auburn
36. New York Jets- Early Doucet WR LSU
37. Atlanta Falcons- Joe Flacco QB Deleware
38. Baltimore Ravens- Chad Henne QB Michigan
39. San Francisco 49ers- Dan Connor LB PSU
40. New Orleans Saints- Jarod Mayo LB Tenn
41. Buffalo Bills- Jordy Nelson WR KSU
42. Denver Broncos- Sam Baker OT USC
43. Carolina Panthers- Tyrell Johnson S Arkansas St
44. Chicago Bears- Chris Johnson RB ECU
45. Detroit Lions- Curtis Lofton LB Oklahoma
46. Cincinnati Bengals- Trevor Laws DT ND
47. Minnesota Vikings- DaJuan Morgan S NC State
48. Atlanta Falcons (from Houston Texans)- Carl Nicks OT Neb
49. Philadelphia Eagles- Dre Moore DT Maryland
50. Arizona Cardinals- Ray Rice RB Rutgers
51. Washington Redskins- Eddie Royal WR VT
52. Tampa Bay Buccaneers- Marcus Harrison DT Arkansas
53. Pittsburgh Steelers- Antoine Cason CB Arizona
54. Tennessee Titans- Pat Sims DT Auburn
55. Seattle Seahawks- Dustin Keller TE Purdue
56. Green Bay Packers (from Cleveland Browns)- John Carlson TE ND
57. Miami Dolphins (from San Diego Chargers)- Justin King CB PSU
58. Jacksonville Jaguars- Reggie Smith S Oklahoma
59. Indianapolis Colts- Erin Henderson LB Maryland
60. Green Bay Packers- Pat Lee CB Auburn
61. Dallas Cowboys- Jamaal Charles RB Texas
62. New England Patriots- Tracy Porter CB Indiana
63. New York Giants-
Thomas DeCoud S California