If I am Josh McDaniels I am trying to accomplish a few goals this offseason no matter how far the 2009 Broncos go in the playoffs.
Goals
1. Sure up the interior part of the offensive line.
2. Find depth and quality youth at cornerback.
3. Add playmakers anywhere I can find them.
4. Get rid of more of Shanahan's overpriced players.
5. Find young developing offensive players who fit the spread offense.
In his words own "smart, versatile players."
Possible Retirements
C Casey Weigmann
CB Ty Law
Cuts/Unsigned Free Agents
RB Lamont Jordan
QB Chris Simms
G Ben Hamilton
T Brandon Gorin
P Mitch Berger
DE/LB Jarvis Moss
DT Marcus Thomas
S Joshua Barrett
WR Brandon Lloyd
Surprise Cut:
TE Daniel Graham
Traded
TE Tony Scheffler (franchised) - DEN receives 2nd round pick
Resigned
WR Brandon Marshall
OLB Elvis Dumervil RFA
TE Tony Scheffler RFA (traded)
OG Chris Kuper RFA
QB Kyle Orton
OG Russ Hochstein
K Matt Prater
Yeah a lot of this is taken from BroncosTX77 but I will spice it up, read on.
Now that we have effective cut or traded both tight ends, a backup QB, RB, Punter, and two offensive linemen we go into free agency. Spencer Larsen has moved to FB fulltime as well.
FA targets: CB, OL, QB, P, RB, TE
Free Agents
CB Carlos Rogers, Washington Redskins
G Richie Incognito, St. Louis Rams
3-4 OLB/DE Chike Okeafor, Arizona Cardinals (probably won't be available but if he is, get him)
TE Randy McMichael, St. Louis Rams (basically an older version of Richard Quinn he can learn from and start with)
Draft Targets: C, DT, DE, OG, QB, RB, WR, TE
2010 Draft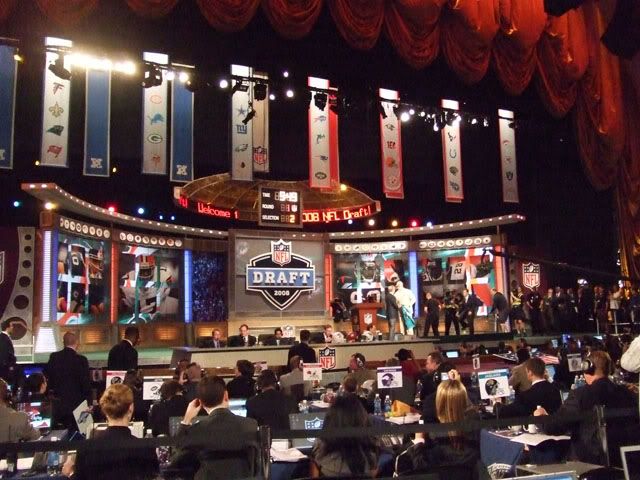 Round 1:
Rolondo McClain LB, Alabama
At pick #9 or 10, I am absolutely not comfortable taking Joe Haden or Terrance Cody here. Rolondo McClain is a great prospect and LBs have more of a shot to give you bang for the buck than a CB or a two down DT. As BroncosTx77 said, the departure of Dawkins (already one of the greatest Broncos of all time) is looming and the Broncos have no heir apparent as far as leadership is concerned. This pick is as important off the field as it is on it.
Round 2:
C JD Walton, Baylor
Not a sexy pick but a necessity pick. He anchored the Baylor line along with Jason Smith and helped develop one of the nations better rushing attacks. I'm sure Josh McDaniels covets a run blocking center.
Round 2
(Possibility from Scheffler trade): DT/DE Arthur Jones, Syracuse
He will drop into the late first or into the top half of the second due to injury concerns. (Pectoral tear and knee surgery alone in 2009) I personally think he has as high a ceiling as anyone in this draft. McDaniels takes him because he understands great teams stock their lines with talent, and Jones fits the mold of a smart, versatile player.
Round 3:
CB/S Kyle Wilson, Boise
His stock is getting better, but he isn't getting any bigger. At 5'10 185 he could be great depth for us when Champ/Goodman leave after 2010. We'd simply reload and keep it rolling.
Round 4:
RB Keiland Williams, Lousiana State
I'd take LeGarrette Blount here in a heartbeat but he doesn't fit in the "smart" part of our mold. Keiland has played on a pretty stacked LSU offense and hasn't gotten a proper chance to shine. Who knows, maybe he becomes the change of pace guy in the future. I believe he catches the ball as well, so versatile, check!
Round 6:
Brody Eldridge TE, Oklahoma
The former blocking back for Oklahoma turned TE. Sounds versatile to me!
Round 7:
Matt Dodge, P, East Carolina
You got to love the bodybuilding punter. This kid will actually make tackles if he has to.
Undrafted FAs
WR Carl Moore Florida
QB Max Hall BYU
QB (WR) Matt Grothe USF
Let me know what you think.