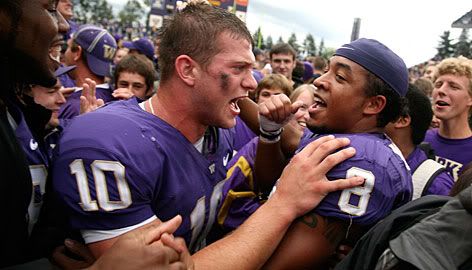 Let's talk about these QBs. Jake Locker (who I blogged about
http://nfl-draft-notebook.blogspot.c...vs-locker.html
) has all the tools but I don't see him becoming a "game changing" player. He is a shaky passer to me. I'd love to see him in a Senior Bowl setting but we won't be able to see that if he comes out now.
Clausen has improved leaps and bounds this year. But is it him or Tate/Rudolph? Both of those players are mid-low first rounders and they are the 1 and 2 options in that offense.. so you never know. We found out that Brady wasn't that great, Clausen might be #2.. or he could break the mold. He has terrible footwork, but makes all the throws. If I had to bet, Id say this time next year he will be starting games for Seattle or St. Louis.
Bradford is my favorite out the bunch. But he's VERY injury prone.
Colt McCoy will be a Carolina Panther, and a late second rounder.
Tim Tebow is going in the first to Jacksonville, and will play wildcat until Garrard gets injured.
That's just the way I see it.