I haven't blogged in a while, but I am back. I have a few thoughts after the Washington Notre Dame game last weekend. Clausen and Locker are being regarded as the top 2 QBs right now by most draftninks. My thoughts: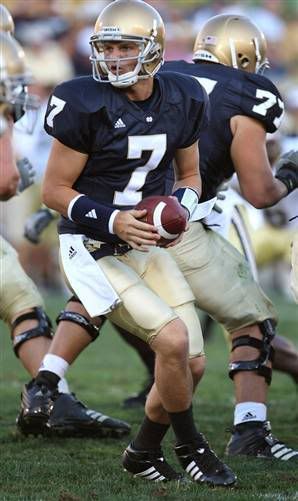 Jimmy Clausen
is going to be the first Quarterback taken, and possibly the first player taken in the 2010 NFL draft. He has the tools, pedigree, and now the film to prove it. He can make the NFL throws to the corners and has great intangibles. He is a gritty winner and isn't afraid to show fire when his team needs it.
NFL Comparison:
Phillip Rivers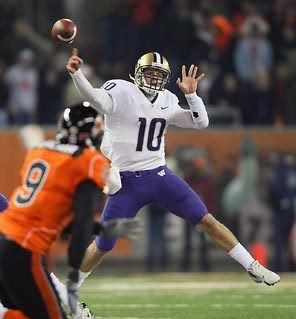 Jake Locker
is a funny one. A lot of people call this guy the person that will change Quarterbacking forever because he runs a 4.5 and can throw it on a rope. Mike Vick could too, and we saw the limitations of it. I personally feel Locker is a huge project right now. He had a chance to win the Notre Dame game and just a few passes were off the mark at the worst times. Whatever team he goes to has to give him at least a year to sit and watch. Yes, a real year. Not this fake 6 game business before they give up and throw the kid to the Lions.
NFL Comparison:
Daunte Culpepper Circa 2000-2004