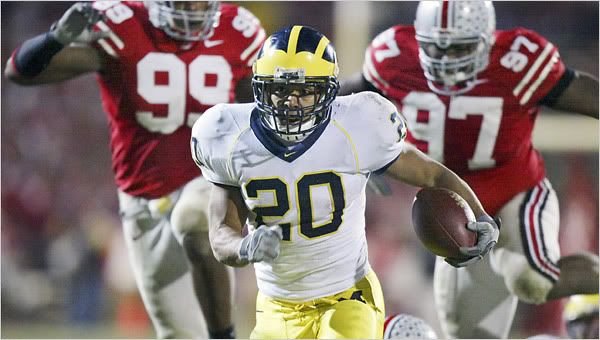 Mike Hart, Colt Brennan, and Darren McFadden all had subpar bowl performances which might hurt their draft stock come April.



Har

t had over 100 on the ground, but his two lost fumbles on the goal line almost cost Michigan the game. He doesn't fumble it ever, so to fumble on the biggest stage of his senior season twice didn't help him.



Colt Brennan

looked like a boy amongst men against Georgia in the Sugar Bowl. The speed of the D caused Colt to throw 3 ints and NO Tds, which is baffling in Hawaii's offense. The Brennan supporters beg us not to compare him to Timmy Chang, but after a game like that I don't know how good Colt can be in the NFL.



Darren McFadden

didn't have a horrible game but seemed to give a lackluster effort. In what will be his last collegiate game had had over 100 yards but didn't even play the 4th quarter.