The four finalists for this year's Heisman trophy have been announced. They are Hawaii QB Colt Brennan, Arkansas RB Darren McFadden, Missouri QB Chase Daniels, and Florida QB Tim Tebow.


The highlights: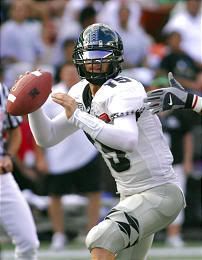 Colt Brennan has the monster numbers out of Hawaii's wide open system. He has the NCAA record for most TD passes.

Chase Daniels lead the underdog Missouri titles to the
#1 ranking
in the country after a huge win over rival Kansas.

Darren McFadden also beat a highly ranked rival; when he led the Razorbacks to a overtime win over LSU.

Tim Tebow has the distinction of being the only man to have
20 TDs passing and rushing
in the same year.


The underdog:


Missouri QB
Chase Daniels
has rode Missouri's Cinderella season all the way to the Downtown Athletic Club. I'm sorry, this Saturday the clock will struck 12 for you. Missouri lost so much love after their loss to Oklahoma their not even playing in a bowl game!


The Favorite:




Tim Tebow is a stat machine. Not only does he have 800 plus yards in the ground he is also the nation's third leading passer with a 68% completion rate. That combined with his 20-20 stats make it statistically impossible not to hand him the hardware.


The Dark Horse:


Colt Brennan. All he has done is set records and Quarterback the only
undefeated team
in the land but he is still not feeling the love. Could it be Hawaii's wack schedule? (I couldn't help it!)


The Winner:




As I've said before,
Tim Tebow
will win the award. The year he's had makes everyone look like second placers in this one.