I've held my tongue on this season too far, so Ill let it all out in this one thread. In case you're not familiar with me, I am an unbiased, realist. I see the Broncos for exactly who they are. I don't sugar coat anything. If thats what you want, stop reading.
If you want a real opinion of the Broncos continue....
First and foremost let's break down the front office. The roster itself.
The last few drafts were successes for the most part. We don't have as many players still on our roster from those drafts as other teams, but the players that stuck have been pretty good. Darrent Williams, Jay Cutler, Tony Scheffler, Brandon Marshall, etc.
My major problem is the lack of major offensive talent drafted in the first few rounds. When you draft a QB #11 overall, you better damn well invest in some other positions to help him. Mainly running back and receiver. I am
embarrassed
that Marshawn Lynch or Laurence Maroney aren't Broncos.
And that leads me to the roster. I wont talk about Javon as he was injured when we got him, but seriously... Travis Henry had 2 strikes when we acquired him. His inability to avoid the sticky stuff has left us throwing undrafted rookie after rookie into the starting lineup with our #11 overall QB.
Without Javon or Rod for the foreseeable future, our WR corps scare no one. Marshall is the master at running sideline to sideline for no yards, and Glenn Martinez is a little bit better than Charlie Adams was. I like the Stokely pickup though, however we need a younger player behind him developing.
On defense, things are better. Shannahan and crew finally drafted D Line and boy did they almost blow it. Jarvis Moss was the worst pick in the first round this side of
Brady Quinn
. If you remember from my dream draft I called for Anthony Spencer, but Tim Crowder appeases me. Elvin Dumervil is our diamond in the rough on defense IMO.
As far as the linebackers and corners go, I have nothing pretty to say. Our linebackers are all lost in pass defense which explains how every TE has a
field day
against the Broncos. We really need to move on from Ian Gold. I don't care how fast he runs. He misses too many plays. The corners have been horrid. Champ Bailey gets a pass for playing injured most of the year.
Dre Bly isn't worth the paper his checks are printed on
, and Foxworth is...
Foxworth.
The only bright spot in our secondary is Abdullah.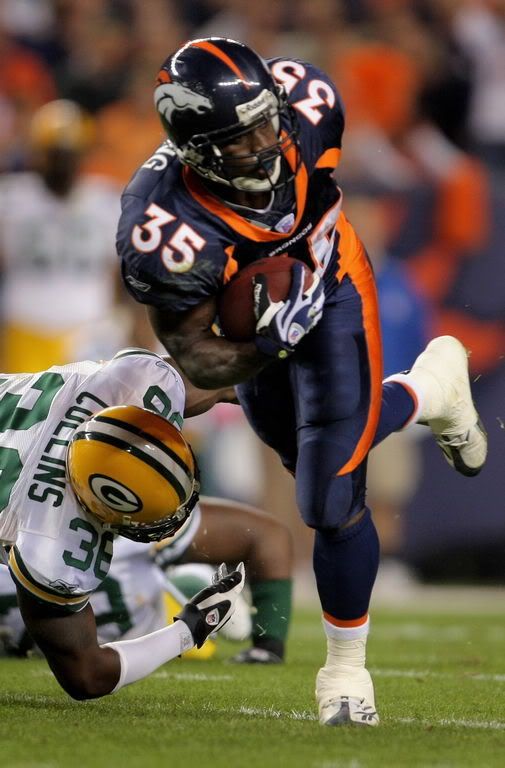 The Broncos this year simply aren't very good. A team that's used to overachieving with minimal talent has finally been bit by it's questionable signings, age, and neglectful drafts. We should have started the season 0-5 if it weren't for the football Gods. The last few games give me hope for the future though as I see this team maturing. Jay Cutler is making it easier and easier to bash Jake Plummer every snap. Brandon Marshall is growing into a top flight WR in our very eyes. Tony Scheffler has found his dedication to stay on the field (and not get deactivated by Shannahan). Jason Elam has become the best clutch kicker in the game again.
So what lies ahead? First and foremost. Personnel. Bates needs to bring in "his" players and make his scheme work or get out of town. Shannahan needs to mass draft on offense and give Jay more help. The offensive line needs to get younger and healthier either through draft or Free Agency.
Every year I hop on a players bandwagon for this team and this year its no different. Barring Tatum Bell doesn't come back to Denver this offseason, I look to a running back to cure the Broncos woes....
Darren McFadden.
The man who simply tears though SEC defenses at will with blazing sub 4.4 speed and amazing cutbacks, he can easily be this team's Adrian Peterson. The Broncos have suffered too long, swallow the pride and bring a top flight RB into town Mike. Trade whatever, whoever you have to. Just get McFadden on this team. Ask Norv Turner and Herm Edwards how does an offense of Cutler-McFadden-Marshall look for the next 7-10 years? It looks very damn scary.