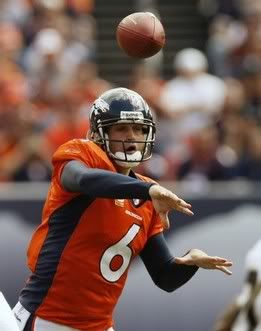 I think the phones are buzzing secretly but no team really has what it takes to complete a deal.
Detroit has the best picks, but signing the #1 overall pick is not something we are trying to do. And Stafford is essentially starting over, which McDaniels cannot afford to do unless he and X really believe that Stafford is going to show something that will make signing him worth it... so no. At least not for the #1 overall selection. Maybe #20, and some other picks, including a future 1st.
The Bucs and the Jets both don't have a QB to give us in return. Their picks are both below ours. Dealing without a third team probably means we get ripped off. Or end up with a bunch of picks, which is not what McDaniels really wants.
Cleveland is the snag in this IMO. The biggest snag is that if the Jets want Cutler, they need to workout a deal with Eric Mangini. Oh, the irony. They were spotted making good at the owners meetings so you never know. Mangini and crew would have to look on tape and decide if they really want Quinn in the fold. I'm assuming not.
In my opinion, the Lions will sign Stafford before the draft thus making Tampa and New York the most likely spots to trade Cutler. Neither team has upgraded at the QB spot and Jay's on the market. The only snag once again.. is Mangini. Does he want to trade Quinn? Is he willing to give the Jets a bailout? Time will tell.