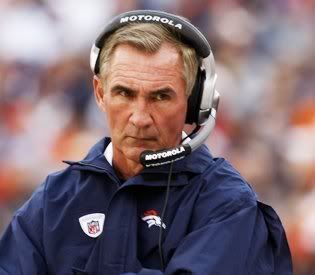 The Buffalo Bills fans finally got their wish. The Bills have let go of their incumbent coach Dick Jauron halfway through the 2009-2010 NFL Season. Yes, not even a full year after acquiring
Terrell Owens
and drafting a slew of linebackers and defensive backs the Bills have decided to part ways with Mr. Jauron.
Terrell Owens tweeted
"its a good day in Buffalo" shortly after the incident but later went on to say he was talking about something else. Is it ever going to be a great day for those hands ever again TO? Just sayin...
Back to the subject, the Bills have decided for goodness knows what reason to talk to Mike Shannahan first of all coaches. I personally think that Coach Harbaugh from Stanford would be a great infusion of energy into a franchise that needs it badly. Not a old Stalwart like Shanahan.
Some of you know I am a die hard Bronco fan. I had to endure a decade of Mike Shanahan's mediocre teams and draft ineptness. I'll give him credit. He struck gold once in 2006 with
Brandon Marshall
,
Jay Cutler
, and
Elvis Dumervil
. But that doesnt make up for the shudders that still run in my body when I envision the commissioner announcing the names of Marcus Nash, Ashley Lelie, George Foster, and Jarvis Bleeping Moss. Yes. Bleeping is his middle name.
I wouldn't wish a Mike Shannahan draft on my worst enemy. Bills fans get ready for strong-armed Quarterbacks and babying them when they throw redzone interceptions, drafting first day receivers like they are going out of style , stocking tomato cans on the defensive line, and plugging undrafted free agents at running back praying that they somehow find the spirit of Terrell Davis. Be careful what you wish for Buffalo, be very careful.